Facebook Page Organic Traffic Masterclass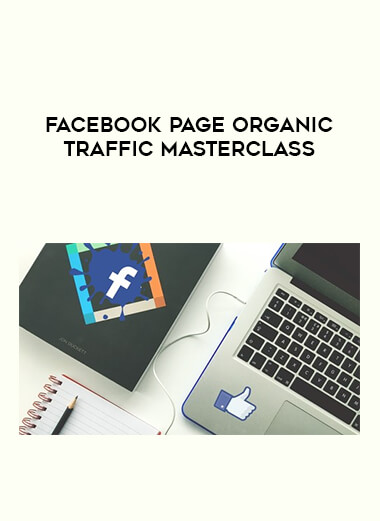 Facebook Page Organic Traffic Masterclass
Arichive : Facebook Page Organic Traffic Masterclass
MASTER ORGANIC TRAFFIC FOR YOUR FACEBOOK FAN PAGES
Fan Page Pros is the complete training course that takes you to step by step on how to build a passionate fan page and increase organic traffic. Fan Page Pros ( Organic reach 1 Million people in Just 2 days with ZERO paid traffic )
Why You Should Join FAN PAGE PROS:
Instant Access To The Complete Training!
Unrestricted access to all the training videos with PROVEN strategies to generate organic traffic to your fan page.
Ask Questions and Get Answers!
Join our Facebook group and network with other members to gain more insights on building you fan page from scratch. Get access to me as your mentor and ask an unlimited number of questions and get answers.
Download All The Templates For Free!
COPY and PASTE all the influencer email templates, moderation list and tools to help you generate organic traffic on Facebook with ease.
Exclusive Bonus Included
A Mystery Bonus training will also be included if you join today!
What's Inside Fan Page Pros?
COURSE CONTENTS
Lesson #1: Introduction
– Overview of the entire training in the course including methods and strategies
– Outline the changes to the Facebook algorithm and how to SURVIVE the declining reach on Facebook
– Discuss the ways to ADAPT to new changes and TAP into the billions of users on Facebook
Lesson #2: Why Build A Facebook Fan Page?
– Identify and target your niche market on Facebook
– Why ESTABLISHING your online presence on the BIGGEST social media platform is important
– How a fan base is crucial in building brand LOYALTY in any business ventures
Lesson #3: Proper Page Setup
– How to OPTIMIZE each section of your fan page
– Step-by-step guide on how to setup up your fan page correctly with DETAILED EXAMPLES
– How to BOOST DISCOVERABILITY of your page to your audience
Lesson #4: Curating Viral Content
– How to EFFECTIVELY research your niche and curate quality content
– How to find PROVEN VIRAL content to increase organic reach
– Review different content strategies to MAXIMIZE your reach
Lesson #5: Creating Your Own Content
– How to produce your own original content efficiently
– Over-the-shoulder training on how to utilize different tools to create your own content
– How to LEVERAGE video content to boost your organic reach
Lesson #6: Posting Content
– How to fully utilize the tools and features provided by Facebook to build a POWERFUL fan page
– Review the best practices on how to post content without violating Facebook&#ff7de8;s policies
– Unveil the best strategies to posting content that increases EXPOSURE
Lesson #7: Targeting The Right Audience
– Best ways to ensure that you content is seen by your niche market especially when building a brand new page FROM SCRATCH
– How to use news feed targeting to put your content in front of the RIGHT audience
– Why defining your target market is crucial to building a SUSTAINABLE fan base
Lesson #8: Scheduling Your Content
– How to schedule your posts to AUTOMATE the content on your page
– Reveal the BEST time of the day to post your content to MAXIMIZE your reach
– My EXACT method on how to increase the VISIBILITY of your posts
Lesson #9: Evergreen Content
– Best ways to recycle and re-purpose all your best performing posts to boost your reach
– How to find EVERGREEN content that can drive massive engagements OVER and OVER
– Why evergreen content is the best long-term strategy to get CONSISTENT engagements
Lesson #10: Post Formula to Drive Engagement
– Access to the exact HEADLINES that will increase likes, comments and shares
– Master my &#ff7ddf;3T Method; to EXPLODE organic traffic on Facebook
– Examples of posts that are effective in getting engagement
Lesson #11: Power of Facebook Groups
– Uncover the HIDDEN traffic sources on Facebook to drive TARGETED fans to your page
– How to NURTURE a passionate following for your brand
– Increase your customer retention through Facebook groups
Lesson #12: Cross Promotion
– How to utilize INFLUENCERS to promote your fan page
– Best ways to FUNNEL traffic from other social media platforms to your Facebook fan page
Lesson #13: Ranking on Google (SEO Training)
– How to fully OPTIMIZE your page to increase organic traffic
– Best METHODS to rank your fan page in Google&#ff7de8;s search engine using backlinks and Web 2.0
– Gain added VISIBILITY to your fan page through SEO
Lesson #14: Things To Avoid / Best Practices
– Explore more strategies on how to engage your fans
– How to properly monitor and manage your page on a daily basis
– Best practices on how to get your content noticed
Lesson #15: Analyzing Post Data
– How to MONITOR and MEASURE the growth of your page
– Properly EVALUATE your page&#ff7de8;s insights data
– Track important Facebook data metrics to understand your POST PERFORMANCE
Lesson #16: Outsourcing
– Complete guide on how to fully AUTOMATE your Facebook fan page(s)
– How to OUTSOURCE tedious work to other members of your team
– SWIPE our exact virtual assistant daily tasks sheet
Lesson #17: Page Likes Ad Training **Added Bonus**
– How to run a SUCCESSFUL page like ads on Facebook
– Step-by-step guide on how to create a page like campaign
– Best methods for running page like engagement advertisement
Lesson #18: Facebook Messenger Bots
– Over-the-shoulder training on how to properly setup a Facebook Messenger bot for your Facebook fan page
– Why setting up a Facebook Messenger Bot can help drive SALES and LEADS to your business
– Reveal my #1 recommended service provider
Lesson #19: Bonus
– Real examples of viral posts that received MILLIONS of organic reach
– Discuss different post ideas that you can curate or produce yourself
– Explore more tips and tricks to boost your reach
Lesson #20: Recap
– Complete SUMMARY of the entire training
– Discuss why most people FAIL with building their fan pages organically
– Overview of the steps and processes that you can follow to build a successful page