Joey Yap BaZi Destiny Code Insights + EBOOK Original 2018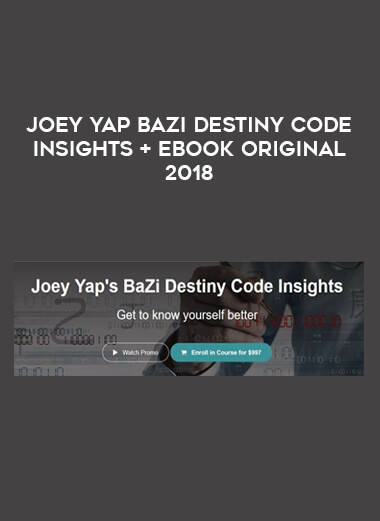 Joey Yap BaZi Destiny Code Insights + EBOOK Original 2018
Arichive : Joey Yap BaZi Destiny Code Insights + EBOOK Original 2018
– EBOOK NOVEL IMPORT TERMURAH SERBA 12rb – BISA REQUEST JUDUL YANG BELUM ADA DI ETALASE – EBOOK TRAVELING SERBA 10rb
SELURUH COURSE YANG DISEDIAKAN OLEH MAGICALSYSTEM DIJAMIN KE ASLIANNYA KARENA KAMI ADALAH MEMBER PRO DARI MASTERYACADEMY (bisa dilihat di gambar ke 2)
File yang kami sertakan disini adalah file original yang kami beli langsung dari authorized seller, kami tidak menerima rekues untuk merubah menjadi format file yang lain.
Yang kami kirimkan via JNE hanya invoicenya saja. Link ebook akan kami kirimkan via email (Mohon tuliskan email dikolom keterangan) jadi anda bisa langsung menikmati dengan mendownloadnya sendiri. Jadi silahkan Order EBook yang lain agar tidak rugi dipengiriman.
format ebook : 5 ebook + 5 pdf
Stepping into the world of Chinese Astrology for the first time may be somewhat overwhelming, especially for some who are just embarking on the journey to learn the subject. However, with proper guidance and tailored insights created by Joey Yap, it could be learnt and mastered from a simplified syllabus.
BaZi Insights is a short yet detailed course which tackles real life questions regarding the art of Chinese Astrology. Joey Yap will be answering questions and sharing insights on BaZi and Destiny chart analysis in a span of six modules. Each module will cover personal questions on students' charts and technical questions regarding the subjects and chart reading methods.