LPI :Entry Level Linux Essentials Certificate of Achievement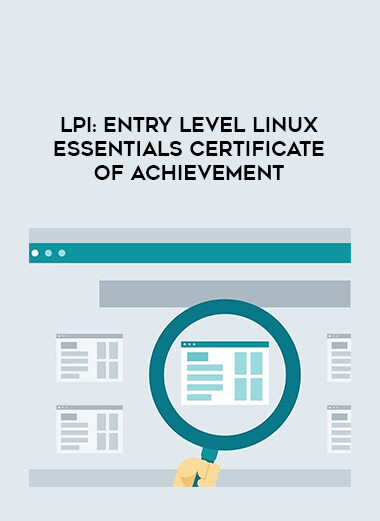 LPI :Entry Level Linux Essentials Certificate of Achievement
Arichive : LPI :Entry Level Linux Essentials Certificate of Achievement
Entry Level Linux Essentials Certificate of Achievement certification training course.  this practice Tests  certification  training course is your number one assistant. Pass with our 010-150: Entry Level Linux Essentials Certificate of Achievement certification training course on the first try and become a certified professional in no time.
Linux adoption continues to rise world-wide as individual users, government entities and industries ranging from automotive to space exploration embrace open source technologies. This expansion of open source in enterprise is redefining traditional Information and Communication Technology (ICT) job roles to require more Linux skills. Whether you're starting your career in open source, or looking for advancement, independently verifying your skill set can help you stand out to hiring managers or your management team.
The Linux Essentials certificate also serves as a great introduction to the more complete and advanced Linux Professional certification track.
The Linux Essentials Professional Development Certificate (PDC) is LPI's entry-level certification. It doesn't serve as a prerequisite for the LPIC-1, but it's a great way for people who are relatively new to Linux to begin validating their skills. The certificate is beneficial for many different industry professionals, from developers, to administrators and engineers, and data analysts. By studying for and taking the exam, you also gain certification prep experience, which will be a benefit if you choose to pursue other LPIC certs.
Achieving the Linux Essentials PDC indicates you are familiar with open source applications versus closed source, know the basics of the Linux operating system, and can run commands on the command line, manage files, perform backup and restore operations and write basic scripts.
Passing a single exam (LPI 010-150) is required to earn the certificate, which doesn't expire. By today's standards, the fee is quite affordable, coming in at a mere $110, making it attractive to those interested in exploring Linux certifications.