Zach Reinhard – Create Stunning Low Poly Animations in Blender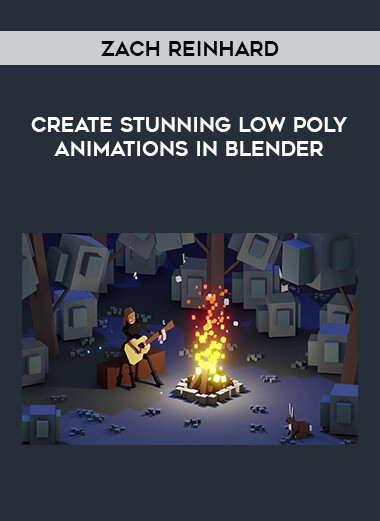 Zach Reinhard – Create Stunning Low Poly Animations in Blender
Arichive : Zach Reinhard – Create Stunning Low Poly Animations in Blender
13.2 GB
Creating beautiful 3D Animations like playing with LEGO bricks.
This course teaches you how to build and animate beautiful low poly 3D scenes from scratch, in a distinct style, using only free tools. As 3D artists, we dream of telling our stories in beautiful 3D animations. However, the more we dive into the world of 3D, the more we learn that creating stunning 3D animations can be a very complex and time-consuming task.
With Cubic Worlds we are going for a simplified "LEGO" approach. We are building our 3D objects and scenes by only using cubes – no loop cuts, no extrudes – just simple cubes, which we will deform and put together, to shape the objects. Combined with a simplified coloring workflow, we can build and color our 3D assets in a matter of seconds to minutes, rather than hours. So nothing is holding you back from impressing your friends and followers with stunning 3D animations.
Suitable for intermediate Blender users
The course is mostly taught in a step-by-step approach, so even beginners should be able to follow along. Nevertheless, we won't cover the basics in this course, so a fundamental understanding of Blender is required.
We highly recommend taking our comprehensive Blender Launch Pad course first (there is a special discount at the checkout page when purchasing the Cubic Worlds course). The minimum Blender knowledge you need, you can also find in our free Blender Beginners course.
No paid add-ons or tools necessary
In this course we will only work with Blender, which is completely free and combine it with other free add-ons and tools.
Get help along the way
We try to make our courses as understandable and easy to follow as possible. However, if it still happens that you get stuck along the way, you can ask for help in the discussion section under each lesson or in our CG Boost community. The CG Boost team and other students are there to help you.
Thorough structured in high quality
Currently (with part 1 of 3 published), over 10 hrs of content awaits you. To make this easy to chew, we split the course into multiple chapters and currently 80+ short and fun videos, mostly between 5 and 10 minutes long. The videos can be streamed online in up to 4k resolution, or be fully downloaded in 2k resolution.